A Guide to Discord
Join Dragon's Bay Channels | Update Settings and 'Push to Talk' | Join Aneala Channels
You can download Discord for Mac, Windows, Android, iOS and Linux.
Once you have installed Discord, you can use this invite to access the Lochac Server:
https://lochac.sca.org/discord
Accept the invite to join the Lochac server.
Pick a username (you can change it later if you want).
Click on the Lochac icon on the left hand side.
This will open up the Channels available to you.
Join Dragon's Bay Channels
[Top]
Click on # rank-request-channel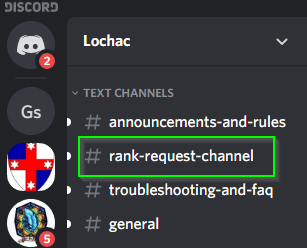 At the bottom of the screen type:
?rank Dragon's Bay
(yes, with the spaces and the apostrophe)
You will then see the following in the main text screen:
This will give you access to Voice and Text Channels, which will show up on the menu on the left-hand side.
Scroll down until you find the Dragon's Bay text and voice channels. Click on the Text channel to show the latest text chats in the main screen.
Click on the Voice channel to connect to hear and talk with others. You can click on the telephone receiver to disconnect from the channel.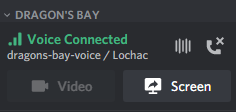 Update Settings and 'Push to Talk'
[Top]
Click on the cog icon at the bottom of the page to update your settings.
Here you will update the Voice & Video settings. Lochac servers require you to select a button to press when you want to speak, which is called "Push to Talk".
You can set a shortcut aka keybind that you press when talking. Make this something easy, and remember that there is a slight delay between you pressing the button and your voice being registered.
You can test your mic here too to make sure the levels are appropriate.
Click the 'ESC' button to return to the text channel.

Join Aneala and Other Channels
[Top]
You can also join the channels for Aneala by going back to the #rank-request-channel and typing:
?rank Aneala
This will populate the menu on the left with the Anealan channels for you to access.
There are a suite of Special Interest channels, and voice channels for you to explore.